Focus on infrastructural improvements at Davos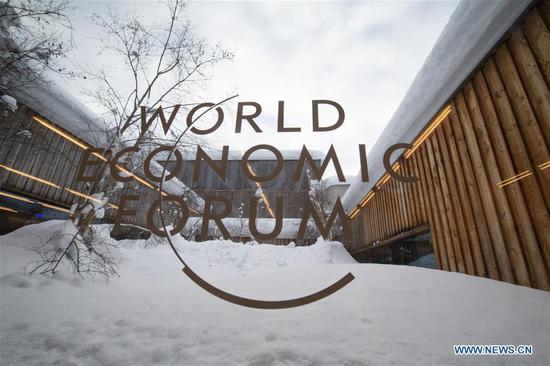 Photo taken on Jan. 21, 2019 shows the logo of the World Economic Forum (WEF) in Davos, Switzerland. The WEF Annual Meeting will kick off in Davos on Tuesday. (Xinhua/Xu Jinquan)
World Economic Forum (WEF) annual meeting kicked off in Davos on Tuesday, with the theme of "Globalization 4.0: Shaping a Global Architecture in the Age of the Fourth Industrial Revolution". Over 3,000 participants around the world are taking part in over 350 sessions and workshops. 
In the discussion of Future Frontiers of Strategic Infrastructure, China-proposed Belt and Road Initiative (BRI) received great attention. Yan Xuetong, dean of the Institute of International Relations at Tsinghua University, said that BRI could never be understood only from the map.
He added that it is easy to draw a line through a map, but building a railway is difficult. In terms of developing countries, the real difficulty is to maintain and operate these infrastructure projects due to lack of technology and financial support.
In light of this, BRI is not a line on the map, it refers to construction and implementation of huge infrastructure projects. It could benefit people in countries involved, with large positive spillover effects on infrastructural improvements.
"Today 940 million people globally are lack of electricity and 660 million are lack of drinking water. So it is really important for development reasons that we need narrow the infrastructure gap globally," senior adviser of the World Bank, Abha Joshi-Ghani said.
How is China doing on Infrastructural improvements?
China has engaged heavily on infrastructure investment through these years. The BRI has invested in a multitude of infrastructure projects around more than 60 countries, some of them are already underway including those associated with the China-Pakistan Economic Corridor (CPEC).
Klaus Schwab, founder and executive chairman of the WEF, said at the opening ceremony on Tuesday that all countries are part of the global community and are all interconnected and interdependent. China also hopes to strengthen global infrastructure investment and construction through coordination and cooperation. It is one of the best representations of a community with shared future for mankind advocated by Chinese President Xi Jinping.
Moreover, China's top economic planner, the National Development and Reform Commission (NDRC), has approved construction of seven infrastructure projects across the country with a total investment of 485 billion yuan (72 billion U.S. dollars) this year.
Meanwhile, China will continue to step up major areas of weakness including poverty relief, railways, roads, waterways, airports and energy, and existing planned projects, according to a guideline released by the State Council.
In the long term, accelerating Infrastructural improvements can attract more enterprises to invest in rural areas and bolster the local economy. It could also help narrow the global gap between the rich and poor.