THESE ARE THE TOP KITCHEN DESIGN TRENDS FOR 2019
In the new year, many homemakers will look to refresh their favorite spaces, often starting in the kitchen. In 2018, we saw everything from banquette-style seating to two-toned kitchen cabinetry, and will continue to see innovative new designs prevail in the new year. 
Whether you're planning to remodel your kitchen or get inspired for a simple refresh, there's a whole new crop of design trends to consider for 2019. We spoke with some of our go-to designers on the top kitchen trends to expect this year, with stunning inspiration for all.
1
CLEVER, CONCEALED STORAGE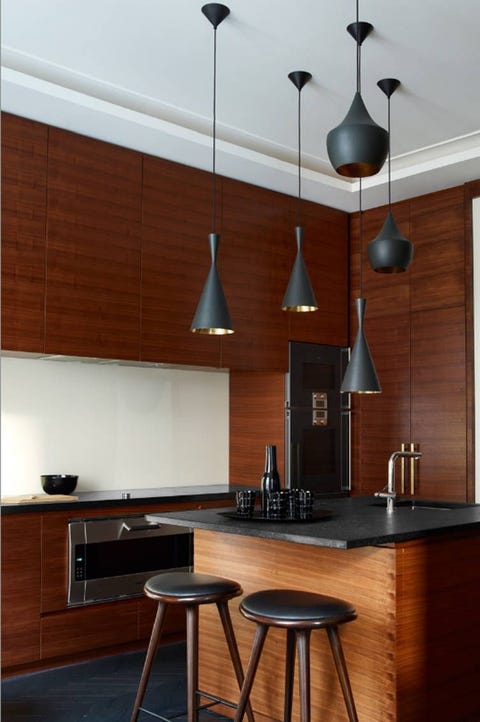 Our clients continue to gravitate towards concealed and clean integration in our kitchen designs, with maximized and clever storage solutions." – Sara Ianniciello
2
PEWTER AND GUNMETAL HARDWARE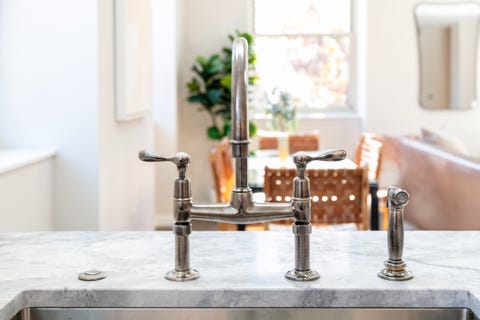 Courtesy of the Design High
"Pewter and gunmetal are the trends we are loving. They're not as harsh as matte black or as specific as brass or gold, but it gives fixtures some texture and depth."– Highlyann Krasnow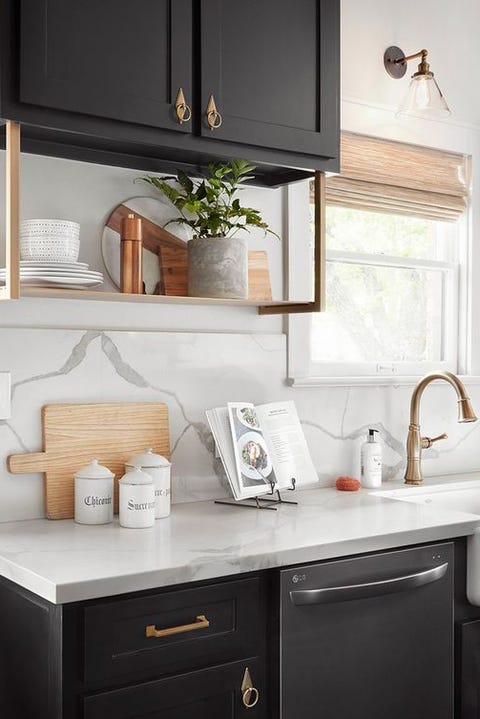 Courtesy of Whitewall Interiors
"A trend I'm seeing is replacing kitchen upper cabinets with metal, wood or glass shelving. Inspired by hotel and retail spaces, this adds to the overall bold statements many want to make in their homes, forgoing the minimalism that was popular in years past." – Sara Ianniciello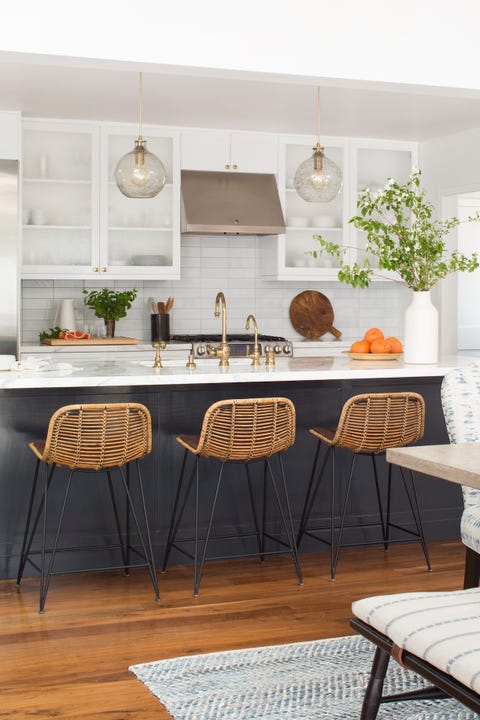 "We'll continue to see traditional elements and forms in harmony with modern design in 2019. Think honed, natural stone, organic basalt tiles, hand wrapped rattan furniture and vintage-inspired fixtures and lighting." –Patrick Ediger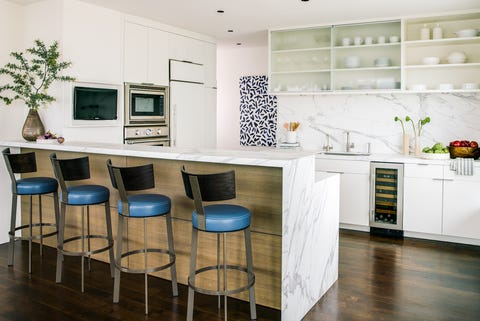 "In 2019 we are officially closing the door on pure white kitchens. Even if it's just one element of accent color — blue counter stools, a patterned roman shade or powdered coated island pendants–pops of color will be sneaking into the pure white blank slate of kitchens past." -Emilie Munroe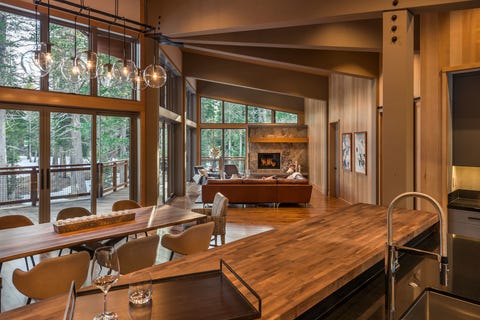 "People are increasingly seeking connections from nature. It creates a welcoming and calming environment, and is a timeless, versatile material we love. We see a growing desire for lighter, airier spaces, and wood is a wonderful material to incorporate to achieve this."– Chris von Eckartsberg and Hans Baldauf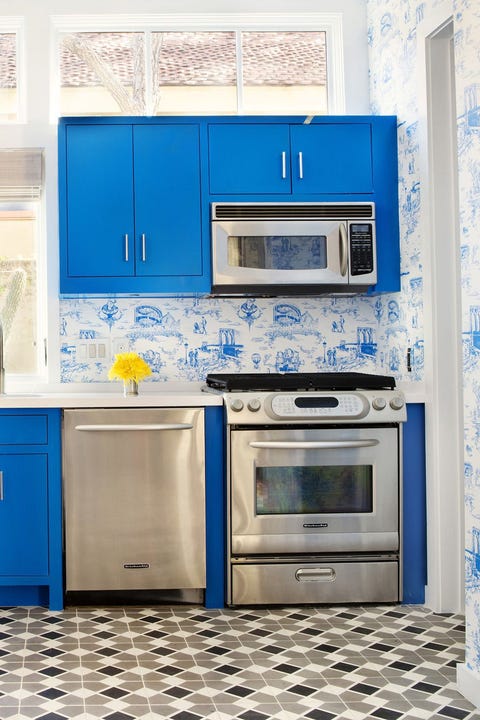 "Many people are beginning to incorporate colored cabinets in kitchens while moving away from all white cabinetry. Making a statement and creating a mood with cabinetry, like using deep or grey-washed blues and greens is in high demand. These are being beautifully paired with fixtures and hardware in brass and other contrasting metals." – Sara Ianniciello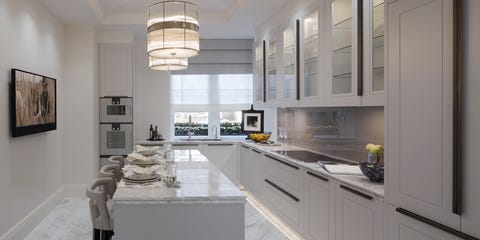 "In 2019, a combination of contrasting textures and sleek finishes will be most interesting. Think mirrored backsplashes with highly-polished, chunky Calacatta oro marble work tops, or cupboards with textured bronze inlays and matte cupboard fronts with sandblasted timber for a layered urban glamour." — Katharine Pooley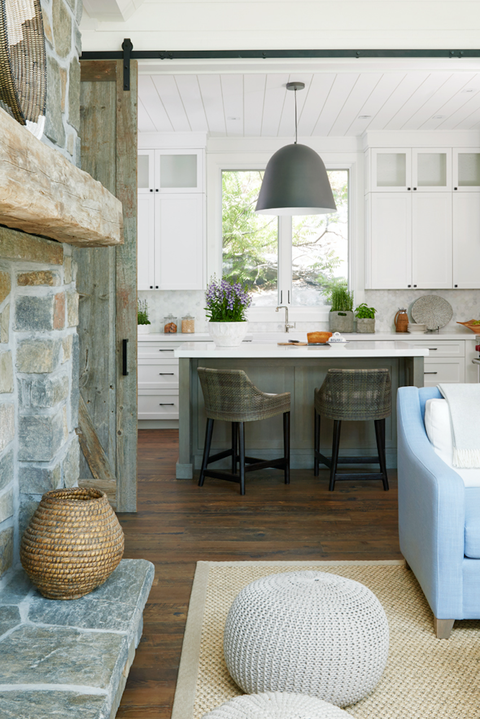 "In 2019, modern kitchen design will be about going to back to basics. Kitchens are being pared down to allow raw materials to shine on their own. Think wood, stone, shiplap, and jute." — Anne Hepfer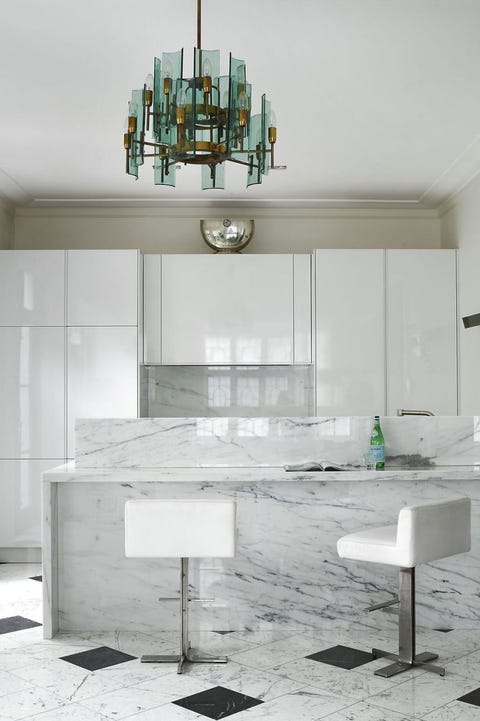 Photo by Simon Upton; Design by Colin Radcliffe
"We will continue to see integrated appliances. We have hoods that are slim and turn on automatically that are stronger than some of the industrial ones we have seen in the past. Induction cooktops continue to be increasingly popular because of their seamless look. You no longer need to see appliances sticking out everywhere anymore and that's the new face of luxury." — Young Huh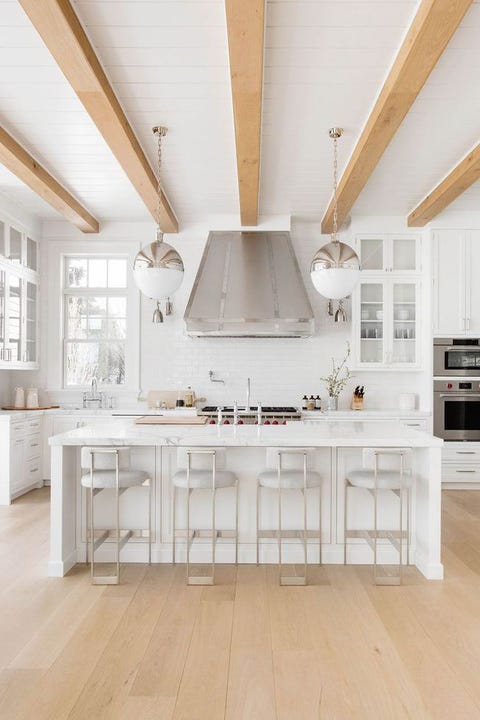 Photo by Rikki Snyder; Design by Tamara Magel
"Statement hanging pendants will be important in denoting different areas within an open-plan space. Anchoring the dining area will be particularly important and sculptural jewelry, like pendants in hard finishes with a mid-century Italian influence, will be popular in luxury developments." — Katharine Pooley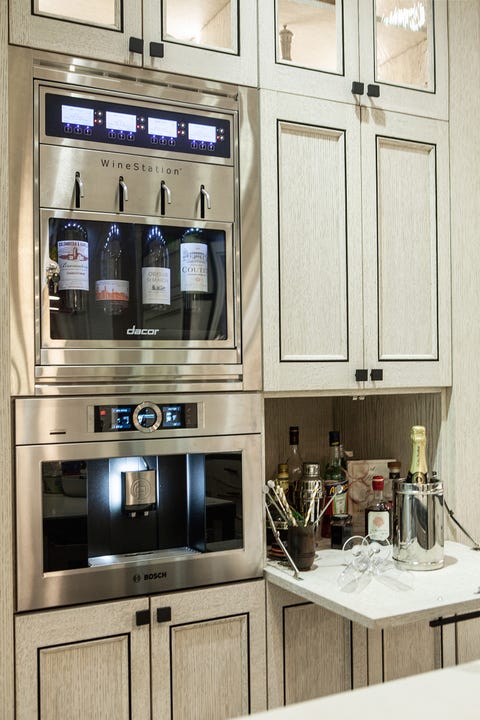 Patrick Cline / Carolyn Pressly Interiors
"Digital technology will continue to drive innovations and new pleasures in the kitchen, giving homeowners ever more specific home appliances targeted to their tastes. Wifi-enabled espresso makers can prepare your morning cappuccino before you even get out of bed, and wine technology is evolving from big wine fridges to restaurant-quality single pour preservation systems. Why stop at opening one bottle when you can have a private tasting flight of four?" — Carolyn Pressly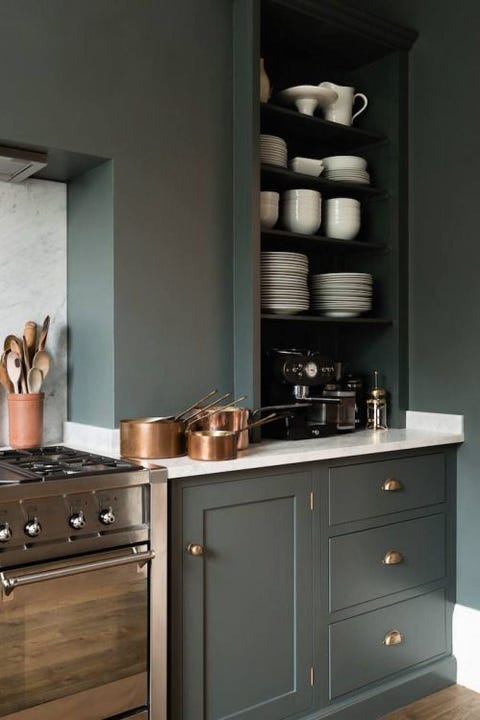 "A hunter green kitchen garners a myriad of adjectives from classic, welcoming, warm, cozy, luxe, best friend, especially when we introduce the use of walnut woods and leather door pulls to give a little pop. It really doesn't get much better than this color and I'm definitely feeling that it's going to be huge in 2019. I see so much hunter green and olive green in the market (and in fashion), that it's destined to happen." — Becky Shea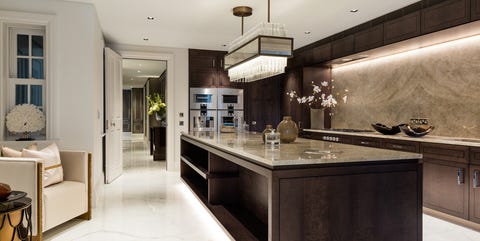 "Tall backsplashes clad with heavily veined marble such as Arabascatto or Calacatta Oro will be making waves in high-brow design circles." — Katharine Pooley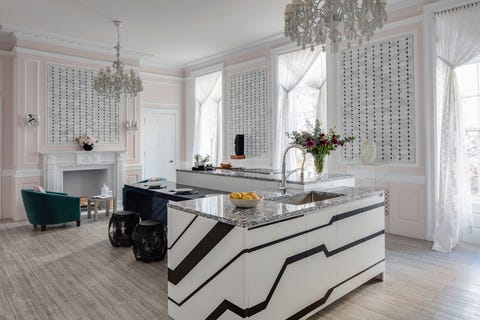 "In 2019, kitchens will be a mix of classic and modern. People want modern amenities and integrated looks, but they don't want their kitchens to look space aged. It's the heart of the home and they want their kitchens to feel warm, welcoming, and attractive." — Young Huh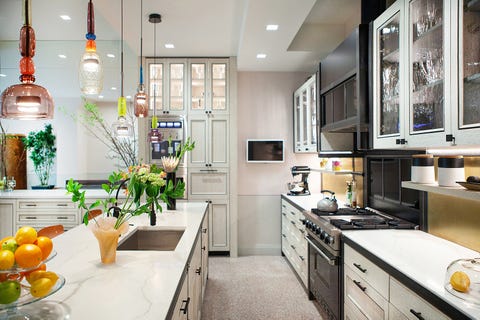 Carolyn Pressly Interiors
"Matte black will continue to be a predominant finish for kitchen fixtures, hardware accents, and even millwork profile details. Black feels fresh as a crisp accent color in light-colored kitchens, and black finishes are a way to add some drama without fully darkening your kitchen. On the flip side, lighting will be distinguished by lively jewel-toned colors that bring an intimate living room quality to the otherwise utilitarian kitchen." — Carolyn Pressly
17
LEATHER AND WOOD DRAWER PULLS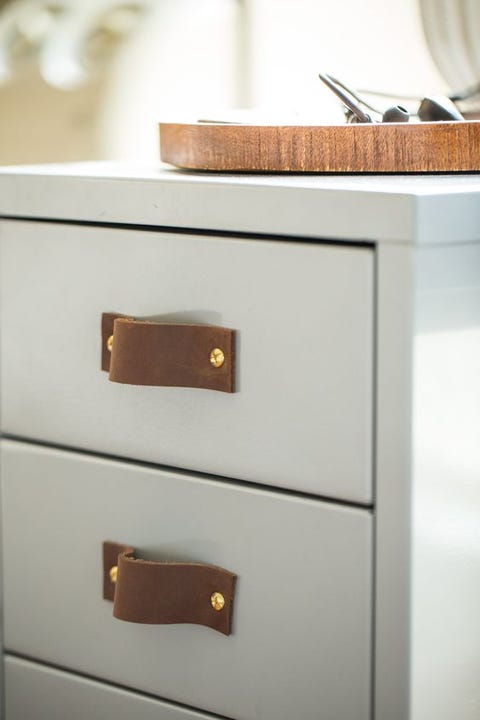 "Folks want organic, and organic we'll give them! We're seeing a huge movement away from the traditional polished chrome and nickel knob and pull, to hardware that has a little more warmth and depth to it. Used in moderation, on an island or a hutch, this is something I definitely see thriving in 2019 and a lot of our clients are gravitating towards this subtle yet impactful detail on their millwork." — Becky Shea
---
【声明】内容及图片整理转载自网络,版权归原作者所有。如有侵权请联系我们,我们将及时处理。